All Groups

This is the starting page for creating your Places, Groups, Members, Places Infrastructure and Places Manpower under Smart village. In the All Groups page different places are available. Each place have different Groups and each Group have members under it.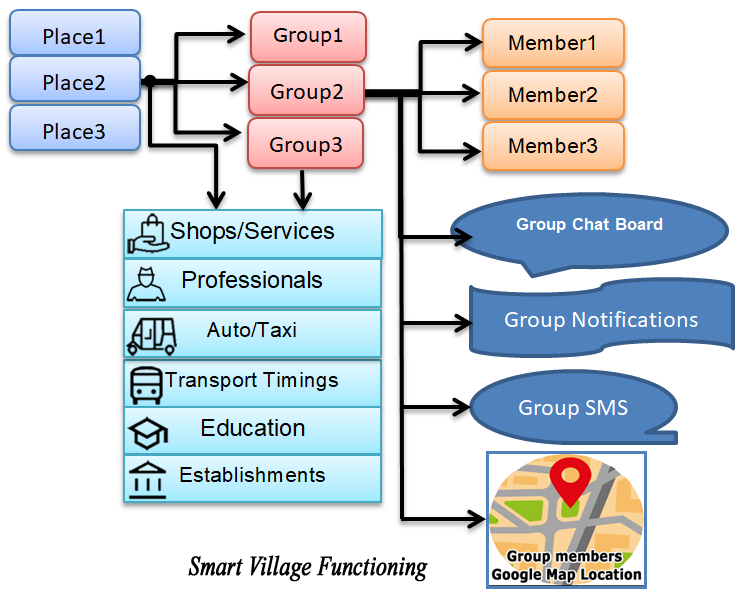 Long Press on an item (Place, Group) of a list will show its own information.
Short Press will display the children of the item (Place, Group, and Member).
Plus signed floating red button at the right bottom corner can be used to add a new item.
Place/Groups/Members
Long press on a Place will display its own information such as Name of the place, address of the place and its Latitude and Longitude. Short press on a Place will display all the Groups under that place. Groups means group of people of a society having common interest. Groups can be Social, Educational, Religious, Political or even friends. Long press on a Group will display its own information and short press on it will display the member list of a Group.
Infrastructure and Manpower of each Place

Under each place of Smart Village database can store the Infrastructure such as Shops and services, Educational institutions, Establishments and Manpower and Transportation facilities such as auto rickshaws & taxies operated in the area, including operator details, present Google Map location can also be availed by users online just as in UBER / OLA. All Groups under each Place have access to this data.

---
Privacy policy
---
Introduction
---
All Groups
---
My Groups
---
In News വാർത്തയിൽ
---

---
Supersoft
Software R.&.D Centre, Kesavadasapuram, Thiruvananthapuram, Kerala, India. Tel.(91)(0471)2540521, 9447140521, www.supersoftweb.com
---
Vedic Astrology App Download it :
Malayalam, Tamil, Hindi, Kannada, Telugu, English.
This edition supports up to Android 9 only.
---
For Android 10 or latest please purchase the Subscription edition from Google Play Store