My Groups

The 'My groups' page is fully customizable. A user can add or remove groups to 'My groups' as detailed below. At least one group should be in 'My groups' page.


Add a Group to My Group page
Go to All Groups Page. Different groups are available under each Group of Places.
Click on a Place to view the children Groups of that place
Long press on the group that which you needed to be added to my groups page. This will display the properties of that group as follows.
Enable the toggle button to add that group in My Groups page.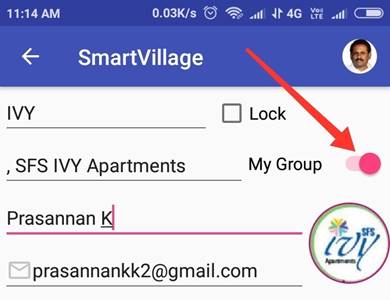 Remove a Group from My Group page
Long press on the group that which you needed to be remove from My Groups page.
This will display the properties of that group as above.
Disable the toggle button to remove that group from My Groups page

---
Privacy policy
---
Introduction
---
All Groups
---
My Groups
---
In News വാർത്തയിൽ
---

---
Supersoft
Software R.&.D Centre, Kesavadasapuram, Thiruvananthapuram, Kerala, India. Tel.(91)(0471)2540521, 9447140521, www.supersoftweb.com
---